A star of winter sports, ski touring has been a must for a few years now as an essential activity for holidays in the mountains. Skis on your feet, helmet on your head and poles in your hands, take on the Megève mountains accompanied by state-certified professionals and enjoy the freedom of slaloming between snow-covered fir trees and immaculate mountain pastures.
Ski touring: beauty & freedom
Do you dream of exploring the Megève mountains, discovering beauty, freedom and adventure on ski touring? To get away from the groomed slopes to explore immaculate mountain pastures, far from the crowds, the ski lifts and the noise? To hike between the snow-covered fir trees where wild animals and grandiose panoramas intermingle? What if it was possible in Megève? Thanks to our state-certified ski instructors and mountain guides, learning to ski touring has never been so easy!
Private lessons, day commitment, discovery course, free rando private lessons, initiation day, advanced course, experience under the stars... In Megève, our mountain professionals offer you a whole range of ski touring activities. Designed to develop your techniques, improve your performance, teach safety instructions or simply explore the Megève mountains in complete serenity, our instructors and guides will accompany you in achieving your goals, whether sporting, fun or contemplative.
By the day or half-day, let yourself be guided by our professionals who, experts in the destination, will show you around the most secret nooks and crannies of the ski area. Seal skins under the skis, taste the freedom of slaloming between the snow-covered fir trees and the pleasure of leaving your mark in the immaculate mountain pastures.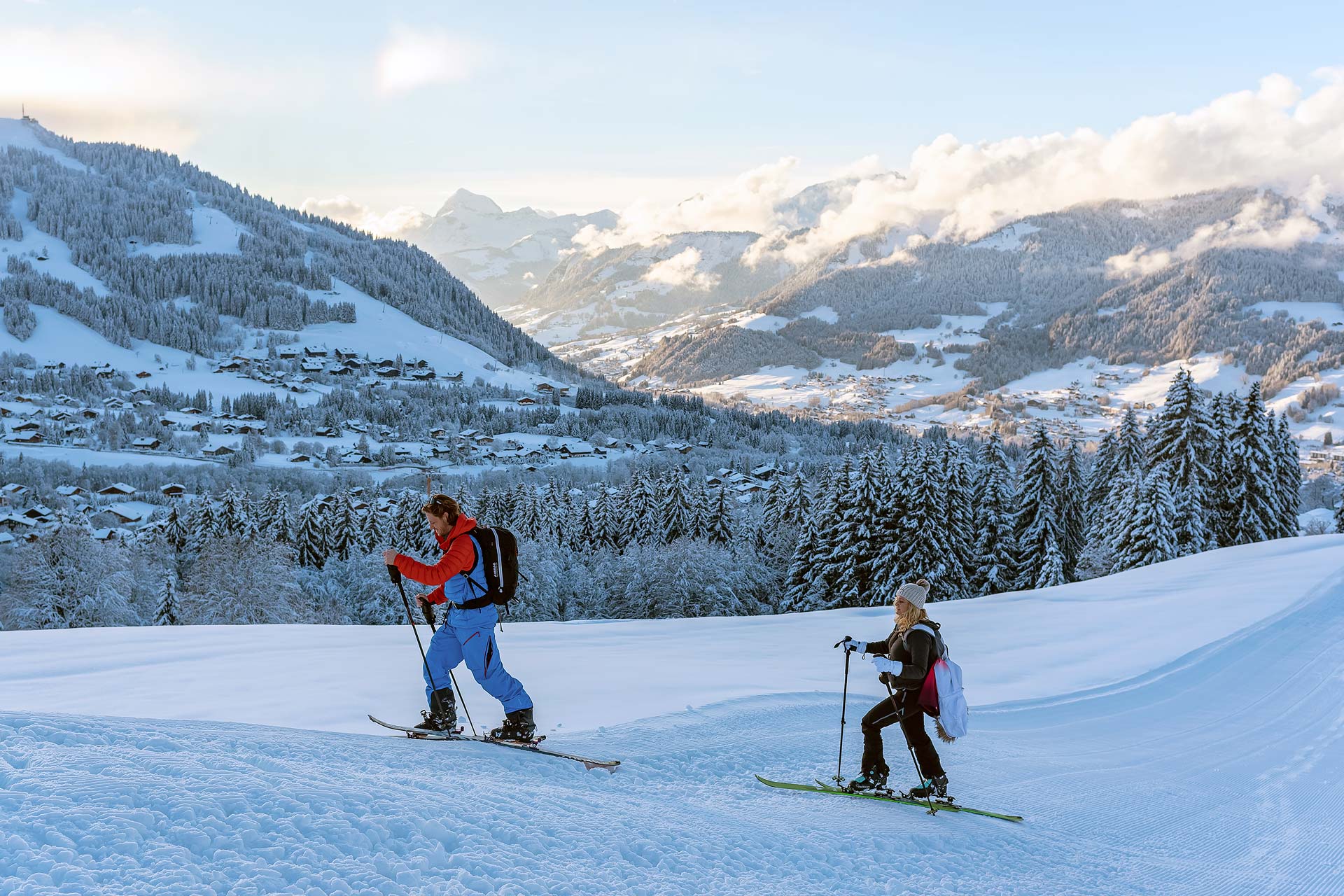 Are you still hesitating to try ski touring? Here are 10 good reasons to try!
Take the time to observe nature, landscapes and wild animals
A practice that takes place in almost any mountain area, more or less close to the ski slopes
An activity that offers an incomparable feeling of freedom
Unlike alpine skiing, ski touring allows you to evolve in virgin spaces, far from the crowds and the ski lifts
Ski touring is a greener activity
It allows you to explore all parts of the ski area and discover secret, well-preserved corners
It is a fun and friendly activity, ideal to practice with family or friends.
A free activity that can be practiced throughout the day and even at night!
Ski touring offers multiple benefits (reduces stress, improves physical performance)
The equipment is light, modern and easy to use
Where to rent your touring skis in Megève?
Do you want to take on the Megève mountains on ski touring? So head to the rental shops! To enjoy winter sports in complete safety, ski professionals invite you to a face-to-face meeting to choose the equipment that will accompany you during your furious ski touring turns. Complete in their offers and professional in their advice, the ski touring rental companies combine all the essential qualities for climbing and then descending the snowy expanses. Equipped with modern, quality and perfectly maintained equipment, the ski touring rental shops offer you all the technical characteristics for good practice. On your side, you will only have to enjoy!
Get well informed to ski safely
Ski during the opening hours of the resort (in the morning the slopes have not yet been secured and in the evening the presence of snow groomers using winch cables makes the slopes very dangerous)
Favor marked routes: the slopes are secure, rescue services are not far away and the risk of avalanche is very limited
Avoid going up the ski slopes as much as possible, prefer marked routes and trails
Pay attention to the information signs, whether they concern the marked route, the dangers (descents, bumps, track crossing) or the environment (protected areas with prohibited access)
Always carry your safety equipment, i.e. the DVA, shovel and probe set, even on the station's marked routes
Before you go, find out about avalanche risks and weather forecasts
Choose a route that corresponds to your abilities and allow enough time to complete your hike: do not overestimate yourself
Drink, eat and rest regularly
Do not blindly follow in the footsteps of others
Don't forget, the mountain guides and ski instructors of Megève are at your disposal to accompany you during your ski touring outings.