Flirt with the glaciers in a magical atmosphere in an icefall! Corseted in a harness, crampons on your feet, ice ax in hand and helmet on your head, soar in complete safety in a progression as dizzying as it is aesthetic, following the shapes, hardnesses and colors of the ice. A unique glacier experience which, although fleeting, will leave climbers with eternal memories.
Break the ice!
In winter, when the temperatures drop, the waterfalls freeze delicately to gradually adorn themselves with magnificent curtains of ice of extraordinary shapes and colors. The ephemeral and magical world of the icefall is then offered to you. Fully equipped from head to toe, a hand-to-hand combat with this thousand-faceted material begins where the evolution, sometimes gentle, often capricious but always fun, takes place in the symphony of the hammering of the ice ax and the blows of crampons in ice. Depending on the shape, lights and colors of the ice, the climber changes universe and weaves a close, ephemeral bond with the ice.
Halfway between climbing and mountaineering, the practice of ice climbing is not exclusively reserved for glacier mountaineers. Although sporty and committed, this discipline is a unique experience open to all, provided, of course, that you want to experience some thrills and be accompanied by mountain professionals! Armed with ice axes, crampons and ice screws, you will benefit from personalized supervision where the experience and good advice of the high mountain guides of Megève will allow you to progress in complete safety on these ice behemoths.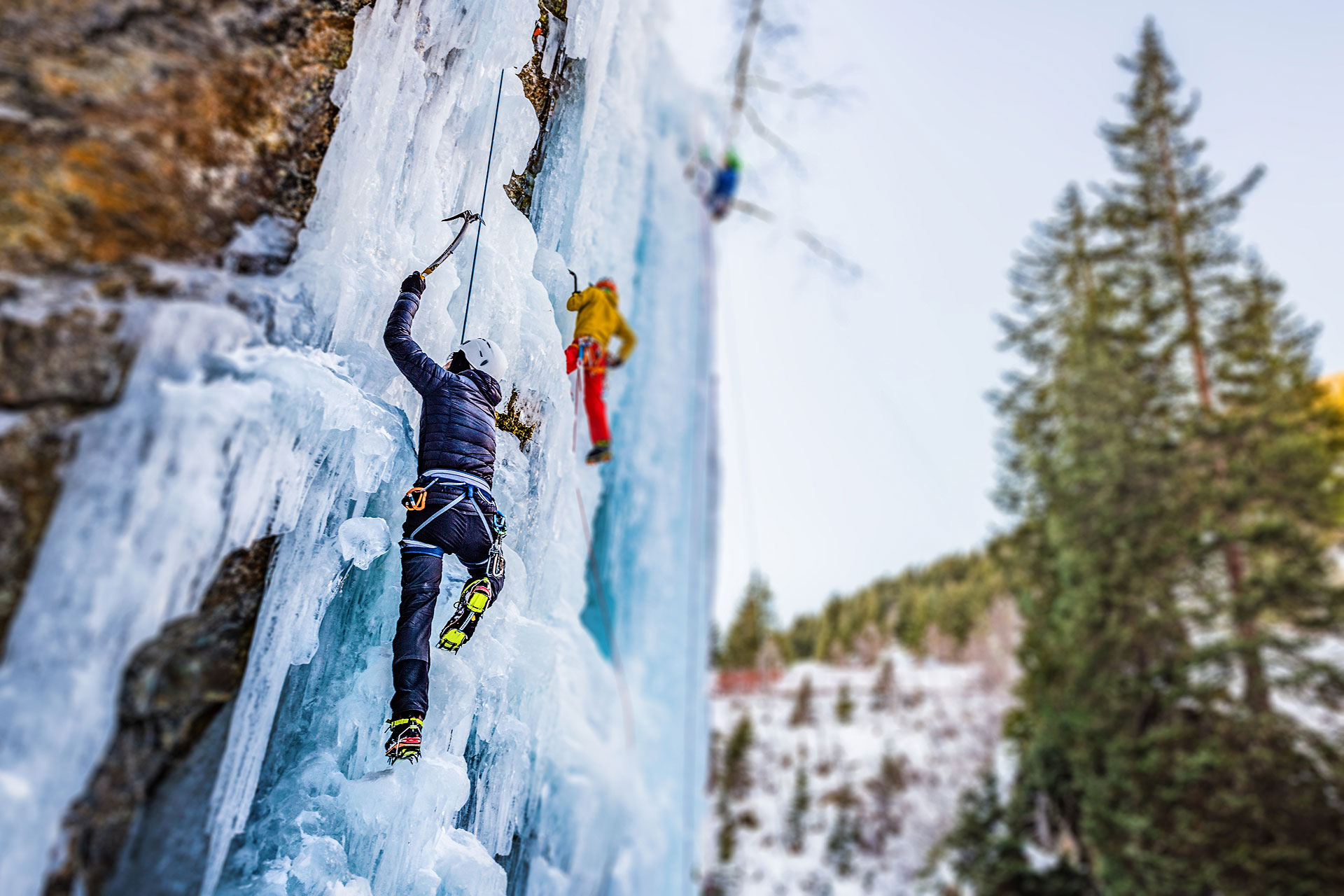 Get well equipped to fully enjoy!
Who says ice waterfalls says frozen waters, and who says frozen waters says cold… So to fully enjoy this unusual experience, it is important to be well equipped! Here is a non-exhaustive list of essential equipment when you go ice climbing:
A pair of category 4 sunglasses to protect your eyes from the reflection of the sun on the ice as well as to avoid splashing ice with the ice ax
A hat or a balaclava that goes under the helmet (the helmet must be worn continuously, even when you are not climbing) as well as a neck warmer
Waterproof and breathable clothing (jacket and pants)
Warm base layers (to be added especially when belaying your climbing partner)
A pair of crampon shoes (often available for day hire)
Minimum two pairs of gloves or mittens in order to always be dry
A thermos with a hot drink to warm you up
What to eat (cereal bars)
Sunscreen and lipstick
A survival blanket
As for technical equipment, crampons, ice axes, helmet, harness and ice screws are provided by the Bureau des Guides de Megève