Hardly has the winter snow returned to the mountain pastures their verdant color when hiking and trail running enthusiasts already take to the many marked trails and paths. Nestled in a green setting with rich and varied panoramas, Megève is a real playground where simple amateurs and high-level sportsmen meet to experience unforgettable adventures.
Megève, the beautiful escape
Bordered by three mountain ranges with dense forests, green mountain pastures and crystal clear waters, Megève is the ideal playground for great unforgettable adventures. Equipped with a pair of basketball shoes, a mountain bike or an electric scooter, take on the forests, mountain pastures and undergrowth of Megève by following the many marked trails and trails.
Easily accessible from the center of the village or the ski lifts open during the summer season, the marked routes and trails allow you to survey the Megève peaks in complete safety and enjoy the benefits of the mountains. With more than thirty footpaths and 4 trail and running routes for all ages and all levels, you are bound to find a path that suits you!
For the more adventurous, Megève hosts many cycling events during the summer such as the Megève Mont-Blanc Cycling, the MB Race or the Haute Route. On the running side, the events are not to be outdone with new routes accessible to all, such as the Megève Nature Trail which brings together simple runners and top athletes during a supercharged race.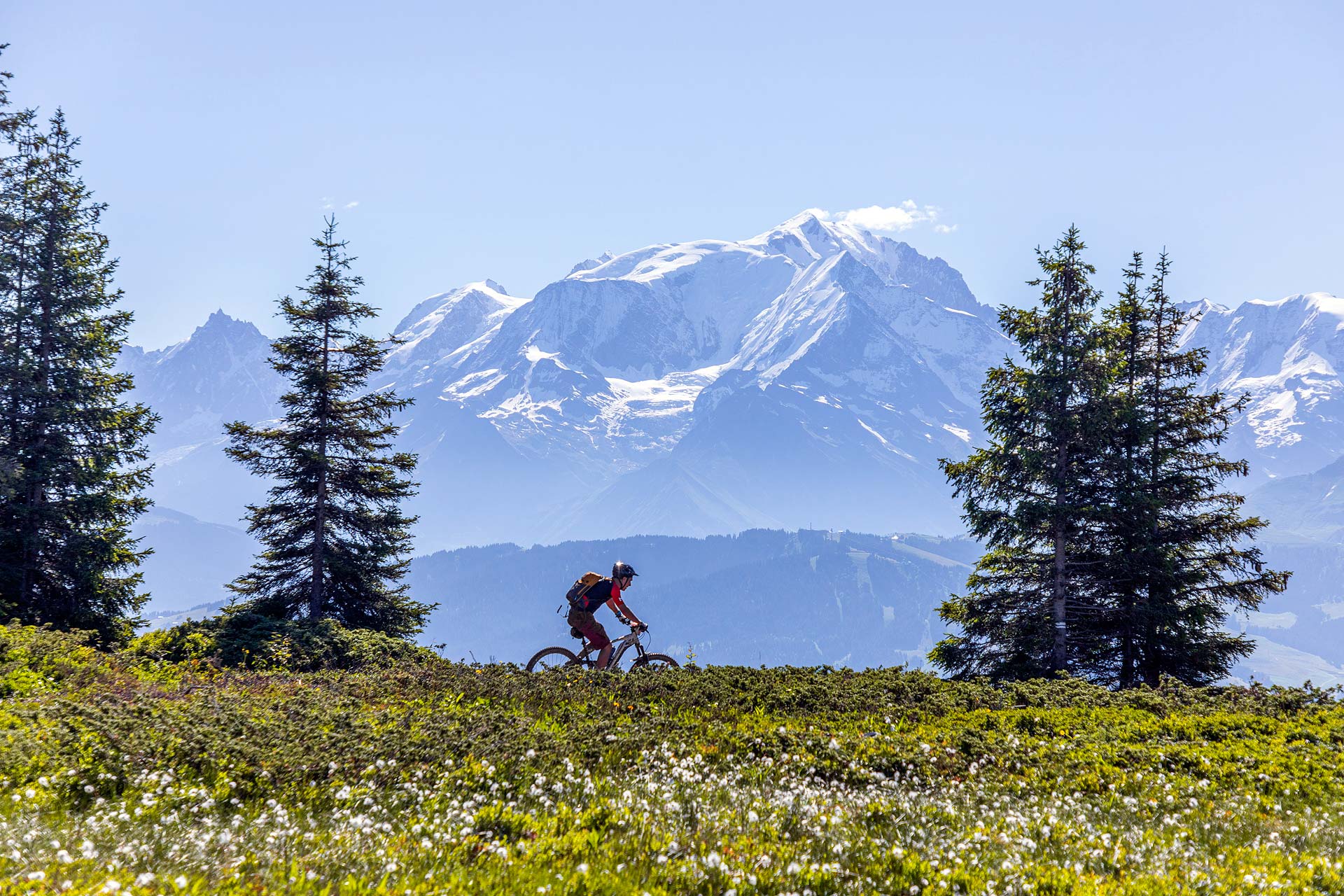 Discover our MTB routes
In Megève, it is possible to walk the marked routes and paths other than by putting one foot in front of the other! Equipped with a mountain bike, a scooter or an electric bike, set off on one of the many mountain bike routes and set off to conquer the Megève mountains! Famous for its excellent location near the most beautiful passes in the Alps and its endless wild valleys, Megève is undeniably an endless playground for "little queen" enthusiasts and mountain bikers.
Explore our walking trails
Capital of outdoor sports, with its expanses of forest and breathtaking landscapes, the village of Megève is a perfect destination for learning about hiking to survey the peaks, always with a breathtaking view of the massif. of Mont Blanc. Entirely marked out by colored bollards or information panels, the pedestrian paths of Megève promise you great adventures in the heart of the Megève nature.
Explore our Trail routes
Immerse yourself in the heart of nature! With its wide variety of "ready-to-run" routes and marked trails, Megève is a playground much appreciated by trail lovers. From family walks in the mountain pastures to intensive training at the top of the mountains, the possibilities of trail running are endless in Megève! Whether you want to explore the many marked trails or let your imagination wander to create your own itinerary, Megève has some great adventures in store for you.