From the start of the winter season, Megève puts on a festive outfit. Sparkling with a thousand lights where a delicious smell of cinnamon reigns, the cobbled streets of the village become the theater of magical moments which delight young and old. Unforgettable festive evenings, exceptional musical moments, international sports competitions, between warm traditions and new creative trends, the most magical village in the Alps has everything to wrap gifts and visitors.
Let yourself be transported by the magic of Megève
No need to wait until December 25 to take advantage of the magic of Christmas in Megève : it takes over the village on the first weekend of December during its traditional Fir Tree Lighting festival. An unmissable event at the start of winter, this incredible show brings together thousands of spectators each year who come to admire the majestic conifer lighting up, promising a festive and snowy season.
In its wake, a myriad of picturesque and poetic events halo the cobbled streets with delicious magic: a good-natured atmosphere in Santa Claus' village, a festive atmosphere during the La Féerie de Noël event, wonder at the fascinating parades and twinkling illuminations. Between dream and reality, we marvel, stars in our eyes when suddenly, an "advent" taste of Christmas tickles the nostrils: cinnamon, gingerbread and hot chocolate intertwine, sometimes awakening sweet memories of yesteryear.
Twinkling with lights, teeming shopping ideas, gluttonous with pleasure and abundant with magical activities, Megève is a marvelous village where the magic of Christmas comes to life and carries you away in a vertiginous whirlwind of enchantment.
Find out more about the illumination of the Christmas tree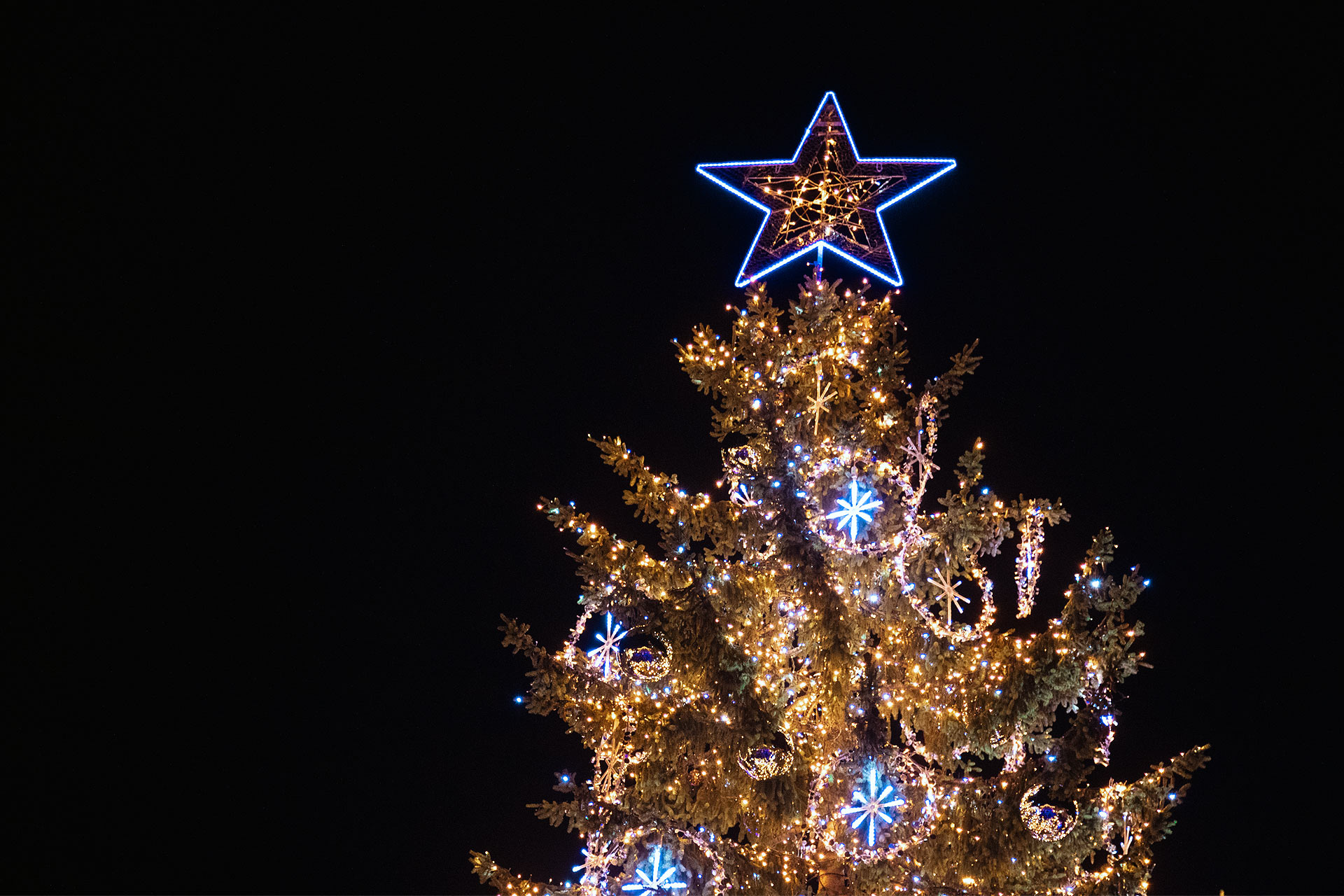 Make an appointment with the magic in Megève
As every year in December, the village of Megève, freshly covered with a soft white veil, unveils its great Christmas program! And this winter again, Megève is putting the little gifts in the big ones to offer you a Christmas that is as magical as it is unforgettable. With family or friends, let yourself be enchanted by a rich and varied program: lighting of the tree, parades, strolls, shows or even the Christmas sweater competition... A farandole of events allowing you to wait pleasantly until December 25!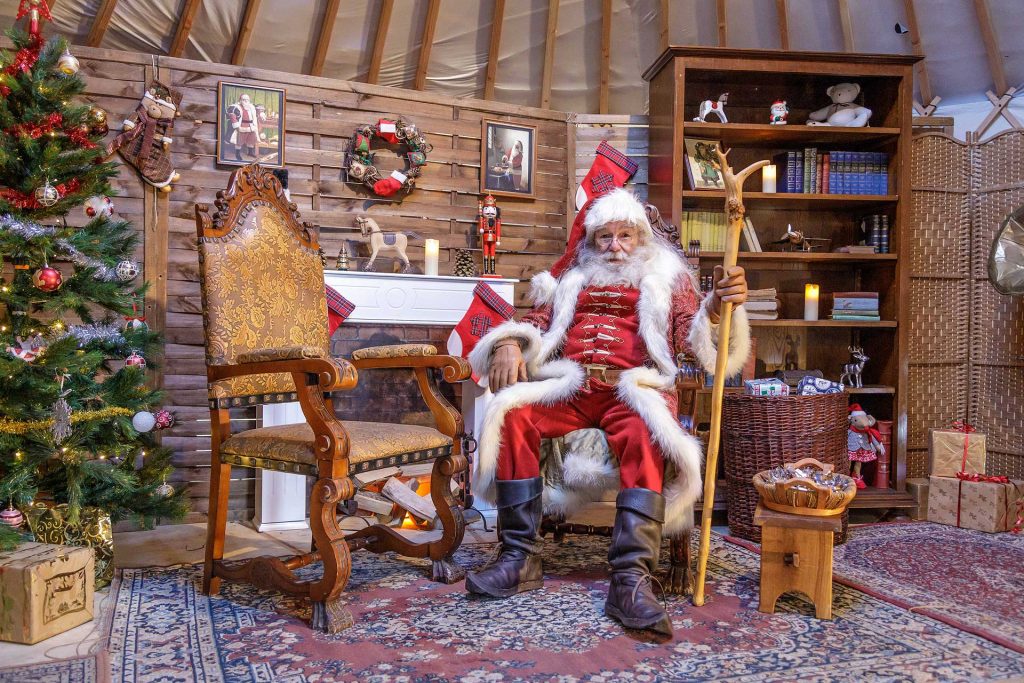 Fully experience the magic of Christmas in Megève
For more than 100 years, Megève has been delighting snow sports enthusiasts, gourmet epicureans, lovers of the art of living and lovers of magic. But in Megève, it is impossible to talk about Christmas magic without mentioning its traditional entertainment and wanderings which enchant the whole village.
From the village square where the majestic Christmas tree sits enthroned to the snow-covered alleys, these wanderings as melodious as they are sparkling offer a magical universe where young and old alike can dream.
While waiting for the big night to distribute the gifts, Santa Claus grants himself little visits to the village! Dressed all in red, Father Christmas swaps his workshops in Lapland to meet the best-behaved children of Megève. The opportunity for the little latecomers to give their wish list to Santa Claus!
Fill up on Christmas activities!
Are you tired of traditional family Christmases where meals drag on and minds get bored? And if this year you break the routine by ordering Santa Claus a large bouquet of unusual activities sprinkled with a thick layer of conviviality? Night snowshoeing, guided tour of a reindeer farm, dinner under a yurt or aperitif in an igloo, there is something for all tastes and all budgets. While you are with family or friends for the holidays, set off on an adventure together and fully experience unique activities where the magic of Christmas is never far away.
Rediscover the pleasures of hot chocolate
Some like it with lots of milk, others with lots of cocoa. Foodies prefer it with a touch of cinnamon, while very gourmets dress it with a thick layer of whipped cream. But no matter the recipe, hot chocolate has all the taste buds in agreement: it's the perfect drink to share a delicious Christmas!
Timeless although very often revisited, in Megève hot chocolate can be enjoyed at any time of the day. You just have to push the doors of a restaurant or a tea room to discover a wide choice of chocolate pleasures with new and sometimes offbeat flavors. Even if some recipes offer original flavors, traditional hot chocolate remains the favorite beverage from the first frosts.
While it is enjoyed between two ski slopes on a sunny terrace, in the middle of a shopping session or a pampering moment at the spa, in après-ski for a well-deserved reward or in the evening in front of a fireplace in watching the flakes fall, hot chocolate gives you so much more than a gourmet break, it gives you unforgettable memories.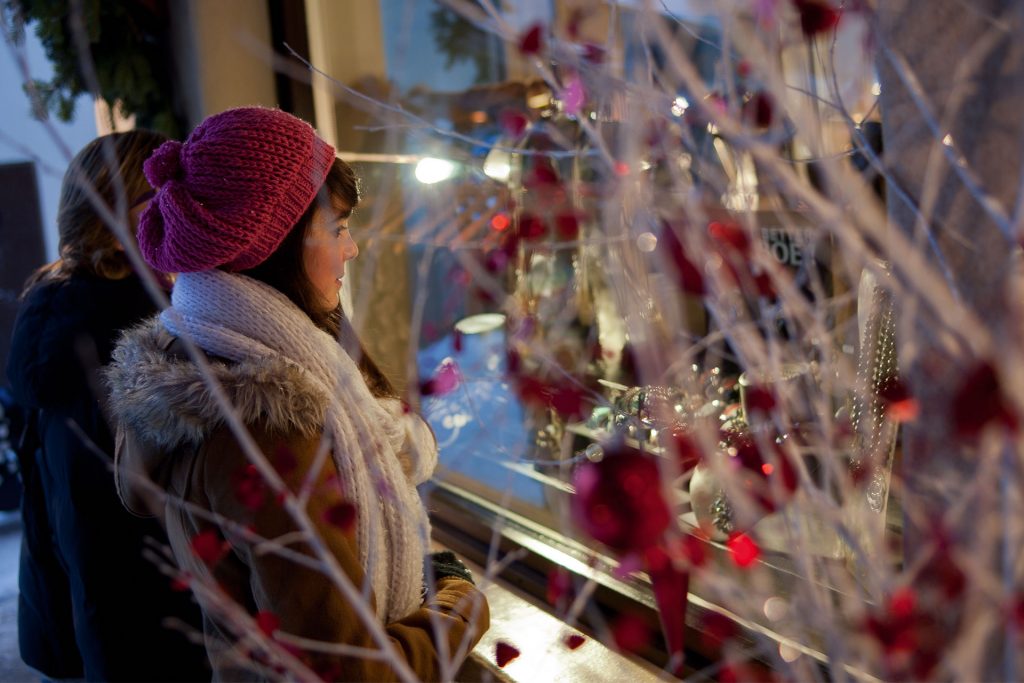 In Megève, spoil your loved ones for Christmas!
Every year it's the same show. There are the embarrassed who run everywhere to find a last minute gift, the perfectionists who hunt for the exceptional gift by visiting all the shops, the efficient who know exactly what they want and the latecomers who wander in all the shops with the hope to find an idea...
Do not panic, in Megève gift ideas are falling like snowflakes! Preciously established along the cobbled streets, the shops in the village of Megève offer you a mountain of gift ideas. Ready-to-wear, accessories, decorations, beauty care and products, winter sports equipment, tableware, books or even local products, let yourself be inspired by our many shops whose salespeople will be able to advise you perfectly. So whether you are looking for a gift for a seasoned sportsman, a little boy who loves board games or a decoration fan, you will always find the ideal gift for an unforgettable Christmas.